Ikea Hack : Standing Desk
I often get a bad back from sitting at a computer all day, so I thought I'd try a standing desk. After 3 weeks of standing, I think I'd find it hard to go back to sitting down all day - I really enjoy working standing up.
Here what I'm using now: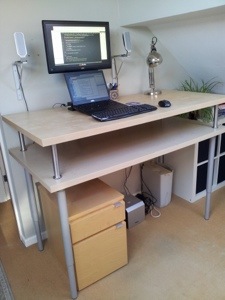 4 x Vika Kaj legs
4 x Capita legs (the 21cm ones)
2 x Vika Amon table tops
It works pretty well, but with the main legs at about 85 cm, it needs to be braced against the wall to make it a bit more solid when typing.
---
Here are some other test versions I tried while figuring out what would work.
---
Other standing desks for inspiration
http://spacekat.github.com/blog/2012/07/26/diy-standing-desk/
http://www.ikeahackers.net/2012/02/big-red-standing-desk.html
http://lifehacker.com/5934906/standing-desks-on-the-cheap-the-ikea-guide
http://woodhowto.blogspot.co.uk/p/wood-how-to-standing-desk-design-kit.html
http://theironyard.com/2012/11/its-time-to-take-a-stand-cowork-standing-desks/